"Let us step into the night and pursue that flighty temptress, adventure."
― J.K. Rowling
I slept restlessly all night, tossing and turning with excitement and anticipation of the day to come.
It was March 20, 2021, the tail end of a wonderful—and badly needed storm in the Sierra.
I crawled out of bed around 5am and brewed some strong coffee.
My friends and I love to backcountry ski. That means we walk up mountains with no chair lift, then carve our turns on untouched snow.
That morning, four of us set out for Round Top Peak near Carson Pass. At 10,381 feet it is the highest point in El Dorado National Forest. Our group consisted of my wife, two good buddies, and me.
We parked one car near Red Lake Peak and continued to the parking area at Carson Pass—hoping to ski two peaks that day and get more vertical by skiing down to the second vehicle.
When we stepped onto the skin tracks, we could immediately tell the snow was going to be amazing.
It was 17 degrees outside—cold enough to preserve light powder—with several feet of new snow from the recent storm system. The snow makes this cool styrofoam sound as it compresses.
Every backcountry mission begins with a certain mixture of fear and enthusiasm—which is healthy when you are hiking in avalanche terrain. But the avalanche forecast looked good, and we had chosen a conservative route.
I had never been to Round Top, so I was excited to ride a new peak. Thankfully, my friend Ryan had logged numerous trips in this area and was meticulously following his GPS and mapping software.
We broke through the trees which revealed a spectacular amphitheater of cliffs, stopped for some mandatory photos, and continued climbing.
*Approaching Round Top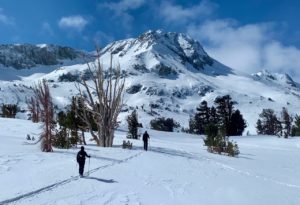 Snow conditions are often variable in different places on the mountain depending on which areas received more sun, wind, rain, or refreeze from the night before. And the last few hundred feet of the ridge proved slippery and exerting, as we struggled to maintain our traction on the ice.
But the views from the peak were awe-inspiring. Huge drops on every side with long vistas in every direction.
*Summit Views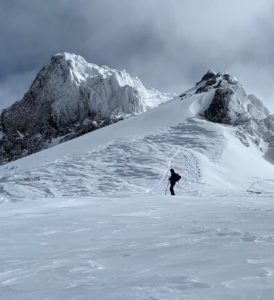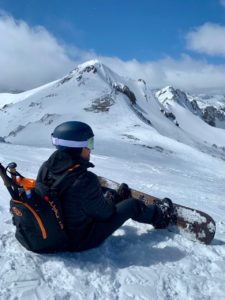 Finally, the moment we had worked for—the ride down!
We carefully assembled the order in which we would ski—based on experience and safety protocol—then sent one person down at a time to wait at an established spot for the next person.
The skiing was phenomenal and we were all grinning ear to ear—whooping as we laid out huge powder turns in the bowl.
Definitely one of the best days of my life.
When we got to the bottom of Round Top, we had a choice to make. Return to the car or push for one more short hike up Elephants Back for more skiing to the second car.
It was a no brainer—the vote was unanimous.
We continued up the short rocky climb to Elephants Back, but when we got to the top, the easier route was not an option because it had mostly melted on a sun exposed aspect, with too many rocks coming through the snow.
*Anni hiking up Elephants Back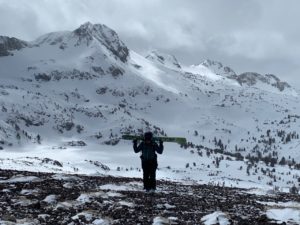 This left us the option to take a steeper chute at the top, which involved a short and sketchy traverse on compacted snow and ice.
Ryan descended through the rocks to serve as our spotter for the right line, and coached us to the best spot to drop in.
The snow was fast, but we all managed to get through the narrow icy section at the top and into the more open bowl skiing laying out some bigger turns.
*Parker carving a turn on Elephants Back chute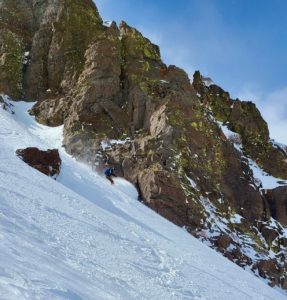 Having been a ski instructor and skied all over Europe—my wife was understandably mesmerized by Ryan's graceful turns, and thought—"Hey that doesn't look so hard!" So she increased her speed on the next section.
I looked down just in time to see her catch an edge in the crusty variable snow and go flipping violently several times while spinning on her head a hundred yards downhill.
My stomach dropped knowing that injuries out here were never good. Thankfully she quickly stood up, alleviating my worst fears.
"Are you okay!?" I called out.
"Yep—well—I think so—something feels a little weird."
The four of us gathered at the bottom of the slope to assess the situation.
By this time she recognized something was clearly wrong, and her leg could hardly bear any weight without significant pain.
Trying to stay calm, and concerned about my wife, we assessed her injury and discussed our options. The battery on my emergency beacon had gone dead and I didn't have the charging cord for the spare battery (important lessons learned there).
We could send someone to find a snowmobile, or go down together.
Once we realized Anni could move on her own power, we began a very slow and painful descent. Mark in his chivalry insisted on carrying almost of her gear, so he carried a double load all the way home, dropping his own helmet and goggles off a cliff at one point.
My wife performed a number of incredibly awkward and indescribable techniques as we navigated difficult terrain features—a combination of skiing and sliding on her one good leg—wincing with every movement.
*Anni shortly after her injury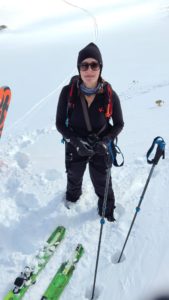 Thankfully, the rigid ski boot helped stabilize her injury.
To my amazement, my wife stopped several times to admire the softly falling and silent snow glistening in the fading light of the day. "It's so beautiful," she remarked.
She also said she wanted another shot at this mountain as soon as her leg was healed.
I thought to myself, "Boy did I marry the right person." Her grit, gratitude, and grace had never been more evident.
It took nearly 4 hours, but we finally limped to the car—relieved and exhausted—around 6:30pm just before dark.
I reflected several times that if I had been injured, I wouldn't have made it down on my own power.
My friend Ryan looked at me saying, "I'm glad this happened. I'm not glad this happened, but I'm glad this happened."
I knew exactly what he meant.
Ironically, the first doctor we saw diagnosed my wife's injury as a bad sprain and told her to bear weight "as tolerated." So she walked on a badly broken ankle for another 10 days before being rushed into immediate surgery—leaving the hospital with a six-inch titanium plate and 8 screws in her leg!
I've included a Youtube link at bottom for a short video of our day.
*Anni's new hardware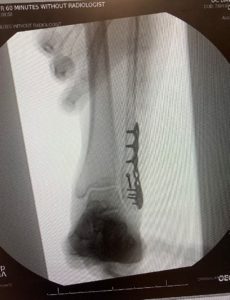 Take action now
In every crisis, there is an opportunity to reflect and learn.
Here are some observations that can be applied to personal, family, or business leadership:
Don't panic. In his landmark book Deep Survival author Lawrence Gonzales exhaustively researched why some people survive and others don't across a variety of situations. A clear conclusion from his research is that people that panic are less likely to survive. Teams need leaders that don't panic. Kids needs parents that don't panic. Mirror neurons can spread anxiety like a contagious airborne disease. Seeing my wife injured in the backcountry was not good, but I remembered another ski trip in which my best friend Eric gave me some hard feedback when he broke his leg, "You looked panicked, and I needed calm reassurance for the condition I was in."
Accept reality. In his business classic Good to Great, researcher Jim Collins looked at the greatest companies over a 40-year period. A key conclusion? Great leaders and companies "confront the brutal facts." In order to make a good decision, one must accept reality or no reasonable solution will be found.
Let the team weigh in. I didn't trust that I was thinking clearly because I was worried about my wife, so it was great to have all members of our team make suggestions.
Review your options. After looking at our choices, we weighed the pros and cons.
Be decisive. My friend Ryan who was there that day is an Air Traffic Controller. He repeatedly says, "Make a decision and live with the consequences." Being decisive is important in his profession, and equally useful in the outdoors and leadership settings. Great leaders don't stay stuck, they make a decision and live with it. Indecision is a still a decision with consequences.
Self–rescue when possible. One good rule of the woods is that if you can rescue yourself, that's almost always the best option. Turns out this is a good rule for leading in most situations. It involves taking personal responsibility and accountability in trying to influence the outcome instead of hoping that others will come to your aid.
Keep taking forward steps no matter how small. Our progress that day was painfully slow, but my wife kept moving no matter what. I'm sure she wanted to stop several times, but we kept looking at 10- or 20-foot sections of the trail at a time. We didn't dwell on how long the entire journey would take, or the next difficult terrain feature.
Perform an after-action review. Great leadership always involves assessing the lessons learned. After our trip that day, our group discussed and evaluated what we could have improved in our situation and what we might do next time. This is what Ryan meant by "I'm glad this happened." It was a pretty low consequence given how bad it could have been, so we had better learn from it. It was also a wonderful opportunity to work together as a team. I'm indebted to Ryan and Mark for their poise and support in getting all of us home that day.
Have a great weekend!
Parker
*If you have enjoyed Parker's blog, check out The Next Peak Podcast that Parker co-hosts. We interview successful leaders and discuss research-based principles that help people win in the workplace without compromising the things that matter most—relationships, a life of purpose, and health.
Want more? Suggested Resources Below
Deep Survival: Who lives, who dies, and why by Lawrence Gonzales
Good to Great: Why some companies make the leap and others don't by Jim Collins